>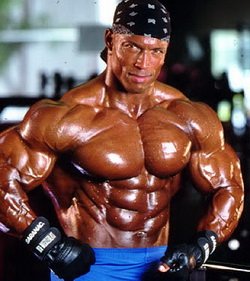 As runner-up for the Mr. Olympia, Shawn Ray certainly knows the right diet to follow. Catch his tips here.
Most professional bodybuilders claim that getting ready for a show is pure science. That's not for Shawn Ray. He relied on instinct to lead him through his 12–week plan that garnered him legend status and runner–up in the Mr. Olympia. Here are some of his guidelines:
1. I never keep a running account of the quantities of food I eat–neither the calories nor the grams of fat or protein. I use the mirror, not the scale, to chart my progress.
2. During the off–season, I stay within easy striking distance–15–20 lbs.–of my goal weight. That might be the most important point of all. The stress and effort it relieves is more than worth the off–season vigilance.
3. At 12 weeks out from the show, I make sure I'm about 15 pounds above contest weight. I then drop a pound or two a week, slowly, until I hit my contest weight.
4. I don't believe in quantifying every morsel I eat; my body is a more reliable source of truth. As you compete more, you learn to "listen" to your body's subtle messages about what you can and cannot eat.
5. I also pay attention to these basics, but without keeping notes. I go by experience:
(a) cardio
(b) fibrous carbs in the form of leafy green vegetables
(c) drink plenty of water
(d) do not crash diet at any time
(e) do not go for long periods on a low-carb diet
6. Changes in your physique will evolve not so much from your diet as from your training. What you do in the gym determines the quality of your separation, hardness and detail.
7. Trust the mirror, not your diet chart. I look in the mirror after I'm done training, not after I'm done eating.
8. 14 weeks out from the show, I start cleaning up my diet, cutting out soft drinks, junk food, ketchup, steak sauce and seasonings.
9. 12 weeks out, I go from five meals a day to six or seven smaller meals. I also shift my training schedule from four–on/one–off to three–on/one off, two workouts a day. Cardio is also increased to twice a day, 30 min. each session.
10. 6–8 weeks out, my instincts are still telling me how to eat, but I am scaling back on complex carbs and red meat, still not writing down anything.
11. The final week is divided into two parts. Monday through Wednesday, I cut back further on carbs and increase my protein. Thursday through Saturday, I load up on carbs and decrease protein.
12. When all is said and done, the principle of Instinctive Dieting is that there are no dramatic changes at any point along the way to shock the body and derail it from its steady improvement. Never did I try to coerce my body to comply with my wishes by force-feeding it; instead, I listened, as it told me what it needed to be its best. That made me my best.
Tags: NUTRITION, Shawn Ray, Shawn Ray's diet

This entry was posted
on Friday, July 9th, 2010 at 7:24 pm and is filed under NUTRITION.
You can follow any responses to this entry through the RSS 2.0 feed.
You can leave a response, or trackback from your own site.