Posted in
NUTRITION
on July 9th, 2010 by admin –
1 Comment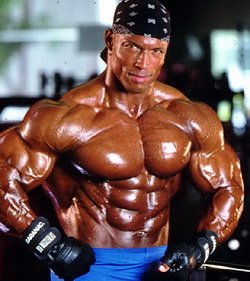 As runner-up for the Mr. Olympia, Shawn Ray certainly knows the right diet to follow. Catch his tips here.
Most professional bodybuilders claim that getting ready for a show is pure science. That's not for Shawn Ray. He relied on instinct to lead him through his 12–week plan that garnered him legend status and runner–up in the Mr. Olympia. Here are some of his guidelines:
1. I never keep a running account of the quantities of food I eat–neither the calories nor the grams of fat or protein. I use the mirror, not the scale, to chart my progress.
2. During the off–season, I stay within easy striking distance–15–20 lbs.–of my goal weight. That might be the most important point of all. The stress and effort it relieves is more than worth the off–season vigilance.
3. At 12 weeks out from the show, I make sure I'm about 15 pounds above contest weight. I then drop a pound or two a week, slowly, until I hit my contest weight. read more »