>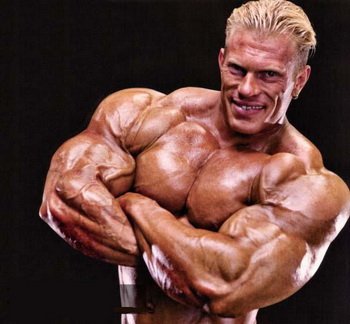 For a guy who was on many people's short list to unseat Jay Cutler at the 2008 Mr. Olympia, Dennis Wolf sure has come down more than a few notches. That year, he finished fourth in a decision that many felt he didn't even deserve. He announced that same evening that he was going to compete in the next Arnold Classic but an injury prevented him from doing that.
With a full year between contests, Wolf showed up at the '09 Olympia extremely off and did not even place. That was a total shock to not only his minions but Wolf himself. But did the big German shoot up the list too fast, only to come back to reality?
Looking over his professional career, Wolf seemed to have peaked between 2007 and 2008. He finished fifth and fourth, respectively, in those two years at the O. At the 2006 Olympia, he did not place and has won only one show overall (2007 IFBB Keystone Pro Classic). Wolf has taken third at his two New York Pro appearances (2007, 2010) and seventh at the '06 Europa Super Show.
When you take a look at his placings from afar, they really are not that impressive. That is not a knock against Wolf, but rather just an opinion based on fact. Not taking anything away from him for those two impressive top six Olympia placings, but a legitimate contender needs to have a few wins under his belt in the secondary shows and at least one top three at the Arnold or Olympia before he can be considered a great bodybuilder. Wolf is not even close to that.
He has announced that he will in fact compete at this year's Olympia and that may not be the wisest decision for him. At 31, Wolf is still young enough to bounce back but another bad placing at the top show may put him on the back burner. He is still a big fan favorite but after a while, that will run out.
There is an argument that Wolf would be better off getting ready for the 2011 Arnold instead of cutting up again in September. He did look fairly decent in Manhattan, but there will be plenty of questions on just what type of improvements he will be able to make in just four months. If he finished behind Roelly Winklaar (a rookie) and Hidetada Yamagishi (a much smaller competitor), then there is no way Wolf will be able to compete against the likes of Cutler, Branch Warren or Kai Greene.
Wolf will need to put on more size and then have enough time to cut up and dry out, and timing has been a major knock against him in the past. The odds of that happening are small, and the fallout will be great if Wolf falters again in Las Vegas.
DENNIS WOLF CONTEST HISTORY
2006 Europa Super Show – 7th
2006 Mr. Olympia – 16th
2007 Keystone Pro Classic – 1st
2007 Mr. Olympia – 5th
2008 Mr. Olympia – 4th
2009 Mr. Olympia – 16th
2010 NY Pro – 3rd
source:musclesportmag.com
Tags: 2006 Olympia, Arnold Classic, bodybuilder, Contender, Contests, Dennis Wolf, Europa Super Show, ifbb, JAY CUTLER, Manhattan, MR. Olympia, Olympia, Professional Career, Shock, Wolf

This entry was posted
on Tuesday, July 6th, 2010 at 6:29 pm and is filed under NEWS.
You can follow any responses to this entry through the RSS 2.0 feed.
You can leave a response, or trackback from your own site.