>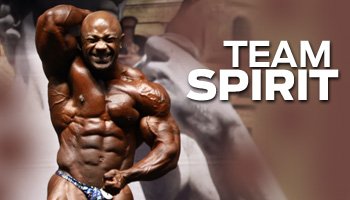 How Phoenix Pro 202 winner Roc Shabazz motivates workouts
Roc Shabazz consistently climbs the ladder. In the NPC, he went from eighth in his class at the 2001 Nationals to fourth to second to first in subsequent years. The IFFB Pro League has been a similar journey. After failing to place in open contests his first two years, he found his stride in the 202 class in 2008, nabbing a runner-up finish. After staying off stages last year, he roared back this year, winning the Phoenix Pro 202 and adding a second at the Orlando Show of Champions 202. As one of Atlanta's elite personal trainers and the long-time training partner of fellow IFBB Pro League athlete Jonathan Rowe, Shabazz has a unique perspective on teamwork in bodybuilding. He shares it with us as well as his marathon ab routine.
ROC ON TEAM SPIRIT
"I like to train my [personal training] clients in groups, so each of them can drive each other. I group them together by their goals, so if everyone is trying to lose weight they'll all train together. If they're trying to get conditioned for the NFL, they'll train together. My training groups are like teams, and each teammate depends on every other teammate to get the best workout. It's the same thing Jay [training partner Jonathan Rowe] and I bring to our workouts. We're a team. If he gets 10 reps, I want to get 11, and then he'll try to get 12. We want each other to do better, and we know that'll drive us to be better too."
Tags: Roc Shabazz, Roc Shabazz motivates workouts, Roc Shabazz workouts

This entry was posted
on Tuesday, August 10th, 2010 at 10:13 am and is filed under TRAINING.
You can follow any responses to this entry through the RSS 2.0 feed.
You can leave a response, or trackback from your own site.