>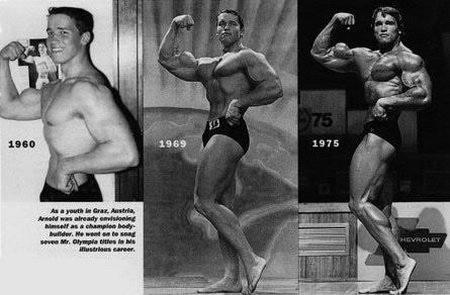 Periodization
I think that disputes about the best way to elaborate gym workout routines will never stop. Not long ago all bodybuilders trained monotonously throughout the whole year; now they use so-called periodization system. This gym workout technique was adopted from professional sport and its main idea is the following: when you reach your overload limit and basic weights can't be increased furthermore you need to reduce your working loads abruptly (Back-Cycling) in order your organism recover and rest. After this you start climbing your power 'mountain' once again. It was found out that such wavy intensity variations buff muscle mass and strength much more effective than the previous monotonous workout programs.
So, periodization is a step cycling of an athlete's workout intensity and workout volumes to achieve maximum amounts of muscle mass and strength… Each cycle presupposes moving from low volumes and high intensity to high volumes and low intensity. A typical gym workout cycle includes three phases: strength training, hypertrophy phase and 'drying'.
The example of a gym workout periodization cycle for a half a year period:
power mesocycle: 2-4 weeks
bulking Up mesocycle (gaining 'mass'): 8-12 weeks
Pumping mesocycle: 8-10 weeks
Such half a year period is called macrocycle; each of its parts is recognized as a mesocycle; each training week within the limits of a mesocycle is called a microcycle.
It is very important gym workout technique. I am going to write article about it soon.
Gym Workout Programs (Levels)
O.k. You have mastered two levels.
Beginner
Pre- Intermediate
….and now You need to decide what to do father.
First of all Let's recollect all "stages" of our way.
Beginner use
Full body gym workout routine program (look like this one):
Day 1: Full body (Chest, shoulders, back, biceps, triceps, abs, legs, calves)
Day 2: Rest
Day 3: Full body (Legs, calves, back, abs, shoulders, chest, biceps, triceps)
Day 4: Rest
Day 5: Full body (Back, chest, legs, triceps, biceps, calves, shoulders, abs)
Day 6: Rest
Day 7: Rest
Pre-intermediate user
Then (after 6-12 months) You became a pre-intermediate user.
So, began: twice a week divided gym workout routines (look like this one)
A) Legs Back Abs
1. Crunches 4 sets Х maximum quantity of reps
2. Barbell Squats 2Х20 (warm-up) + 3Х10
3. Lying Leg Curs 1Х20 (warm-up) + 3Х10
4. Pull-Ups or Pulldowns 4Х8-10
5. Bent-over rows 4Х8-10
B) Chest, Shoulders, Arms
1. Barbell Incline Bench Presses (30°) 2х15 (warm-up)+ 3х6-8
2. Dumbbell Bench Presses 4х6-8
3. Standing Barbell Presses (Military Presses) 1х10 (warm-up) + 3Х8-10
4. Barbell Curls 1х15 (warm-up)+4х6-10
5. Dips 4х6-10
Another example of : twice a week divided gym workout routines
1 day:
1. Calf Raise 3х15-20
2. Squat 3х10-12
3. Deadlift 3х6-10
4. pullups 2х8-12
5. Barbell Rows 2х6-10
6. Barbell biceps curl 2х8-10
7. hammer cur 2х8-12
8. crunches 2×15-20
2 day:
1. Calf Raise 3х15-20
2. barbell bench press 2х6-8
3. incline dumbbell press 2х6-10
4. lateral raises 2х8-12
5. military press 2х6-10
6. Close Grip Bench Press 2х6-8 or triceps extension 2х8-10
7. Barbell Shrugs 2х8-12
8. crunches 2×15-20
In this program you can see only working sets (without warm-ups).
Intermediate Gym Workout Program
So, you got over the one-two years' line. What should you do next?
First of all you need to decide whether the initial gym workout program remains efficient for fulfilment of your goals. If you continue gaining strength and muscle mass there is no need to change anything. This rule regards any gym workout program. While a program works don't change it. Often beginners jump from one workout routine to another each week hoping for better results. Such practice doesn't lead to anything good; bodybuilding is a sport for the patient. Sometimes one has to wait for results for months. And if you switch workout programs too often you simply don't allow this result to occur.
Take into consideration the fact that during the first several weeks your power results had been growing so fast not so much because of growth of strength and muscle mass as because of adaptation of your body to a more efficient variant of workout exercise performance. In the future such adaptation will slow down; but it doesn't mean that growth of muscle mass and strength slow down as well. Actually it's on the contrary: since this moment all power additions are only at the expense of increase of muscle mass but not at the expense of mechanical adaptation to workout exercise movement.
So, let's suppose that your progress when training according to the first gym workout program slowed down. What should you change?
You should start applying specialized trainings to muscle groups. It would be a good idea to train legs on a separate training day: this will enable you to workout the biggest muscle group more efficiently.
You shouldn't reduce rest duration (you can even increase it).
How does it look like? – You split your compound body workout into three separate training sessions: you train back together with deltoid muscles, chest – together with arms and leave a separate day for legs. You should distribute rest days according to your own wish and feelings; but it shouldn't be less than 2 rest days per week. The most optimal way is to alternate each training day with one rest day like you were doing during the previous program. So, your new gym workout can look like this:
1. Legs
2. Back and Deltoids
3. Chest and Arms
And here's an exercise complex to suite this gym workout program:
From now you should workout each big muscle group (Back, Legs, Chest) individually. You added one more basic exercise for each of main muscle groups and increased rest duration between trainings of the same muscles.
There are a lot of another Intermediate gym workouts. You should understand that each program has the advantages and the disadvantages. I wrote some more variants of gym workouts for Intermediate:
• Back, Shoulders
• Chest, Arms
• Legs, Abs
-Back, Chest
-Shoulders, Arms
-Legs, Abs
-Back, Biceps
-Chest, Shoulders, Triceps
-Legs, Abs
More Frequency
More Week Rest
Tags: cycle, Gym Workout Programs, Gym workouts, Gym workouts periodization, mesocycle

This entry was posted
on Monday, July 5th, 2010 at 7:01 am and is filed under TRAINING.
You can follow any responses to this entry through the RSS 2.0 feed.
You can leave a response, or trackback from your own site.