>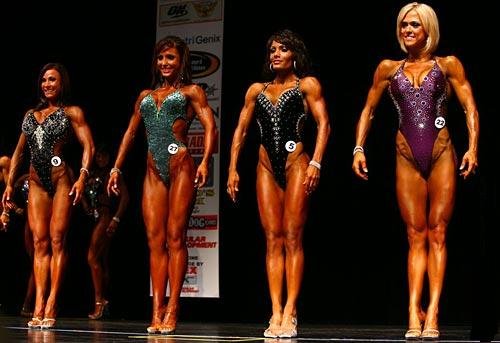 The '10 IFBB New York Pro Figure (and NPC Team Universe and Fitness Nationals) got off to a big start last night in Hackensack, New Jersey. From the callouts and photos it appears that Cheryl Brown, a 38-year-old mother of three who's had a sensational string of top-three finishes since turning pro last summer at the IFBB North American Championships, is on tap to score her second win. Also that Terri Turner and Gennifer Strobo could be nabbing the other two Olympia-qualifying spots.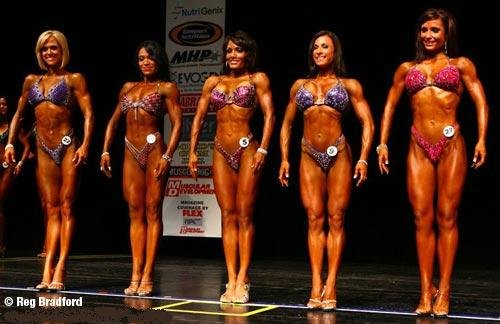 Those three, plus Dana Fallacara, a brand-new pro who took the A-class at the Junior Nationals last month, made the first callout in the one-piece suit round. I liked the look of Josie Zamora, the overall champ at the Juniors, and the judges must have too. When they got to the two-piece round, they added her to the previous group for the key first callout.
The accompanying photos are the first callouts from both rounds, courtesy of Reg Bradford. Check back later for more on the Team U and Fitness Nationals—and to see if I was right about Brownie, Terri and Gen.
Top photo (from left): Dana Fallacara, Terri Turner, Cheryl Brown and Gennifer Strobo. The panel retired Turner and Brown but kept Fallacara and Strobo up for the second comparison.
Second photo: Josie Zamora (second from the left) joined the group for the big two-piece comparison.
Here are the complete results. 1. Cheryl Brown
2. Dana Fallacara
3. Terri Turner
4. Josie Zamora
5. Gina Trochino
5. Gennifer Strobo
7. Meriza DeGuzman
8. Ann Titone
9. Marcy Porter
10. Candice John
11. Jelena Abbou
12. Tivisay Briceno
13. Chelsey Morgenstern
14. Jennifer Migliacci
15. Holly Beck
16. Jeni Briscoe
16. Christina Casoni
16. Nicole Coleman
16. Caroline Hernandez
16. Jennifer Hernandez
16. Juliana Malacarne
16. Michelle Mayberry
16. Angela Mraz
16. Marie Newman
16. Vicki Nixon
16. Katherynne Ramirez
16. Tammy Strome
16. Kimberle Trowbridge
16. Rosalind Vanterpool
16. Stacy Wig
16. Magdalena Wilk
16. Jennifer Woodruff
Tags: 2010 IFBB, 2010 IFBB New York Pro Figure, Figure Results

This entry was posted
on Sunday, July 11th, 2010 at 12:52 pm and is filed under FEMALE BODYBUILDING, NEWS.
You can follow any responses to this entry through the RSS 2.0 feed.
You can leave a response, or trackback from your own site.