>
In 2006, Branch Warren made his Arnold Classic debut with a stunning runnerup finish behind Dexter Jackson. He stumbled to seventh the next year, the rare occasion when he wasn't on-point, but in the last three first weekend's in March he's been fourth, third and third again at the A.C. Having knocked on the door so many times, this year in Columbus the Bulldozer is looking to blow that door open. One thing is certain, as he does every March he'll have the best pair of calves among the top contenders. As he preps for his sixth A.C. on March 5, we look back at how Branch Warren swelled his lower legs.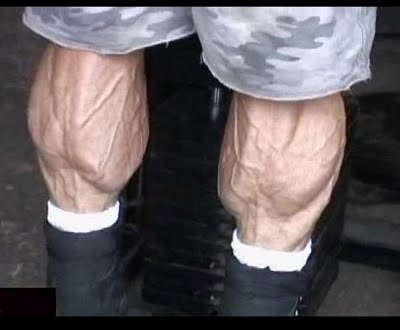 BRANCH ON CALVES
* "For calves, I alternate between a moderate-rep workout [workout A] and a high-rep workout [workout B]. I do each once a week."
* "I don't think you need a lot of sets for calves. If you focus on a good stretch and contraction on every rep and push your sets to failure, six sets is plenty. More work usually means lazy work."
* "Calves are used to that middle range of motion from all your walking, so to make ';em work you got to focus on the stretches and the contractions. Exaggerate those areas of the reps."
BRANCH'S CALF ROUTINE: WORKOUT A
EXERCISE
SETS
REPS
Standing calf raises
3
10-12
Seated calf raises
3
10
BRANCH'S CALF ROUTINE: WORKOUT B
EXERCISE
SETS
REPS
Calf presses
3
50
Smith machine calf raises
3
30
Tags: Branch Warren, Branch Warren calves routine, BRANCH'S CALVES

This entry was posted
on Thursday, March 17th, 2011 at 10:41 pm and is filed under TRAINING.
You can follow any responses to this entry through the RSS 2.0 feed.
You can leave a response, or trackback from your own site.