>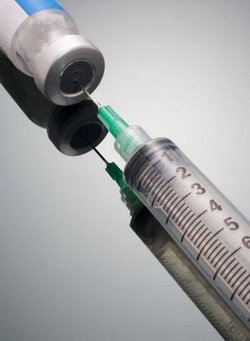 Doping tests on University of Waterloo football players have uncovered "unprecedented" levels of cheating, including the first-ever sanction for human growth hormone in North America, say officials with the Canadian Centre for Ethics in Sport.
The breakthrough findings should prompt professional sports leagues, including the National Hockey League, National Football League and Major League Baseball, to impose HGH testing, says Paul Melia, president and chief executive officer of CCES, which conducts testing on amateur and professional athletes.
"These were deliberate attempts by athletes to dope, to cheat the system, to take a shortcut and to succeed at any cost," Melia said of the positive results from team-wide testing in March on 62 members of the Waterloo Warriors football team.
In all, eight players were sanctioned for using steroids or HGH, a level of cheating that's off the charts, said Christiane Ayotte, director of the Doping Control Laboratory in Montreal, which conducts CCES tests.
"It is unprecedented," she said. "It was a surprise to us that that level of sophistication would be found in university sports."
Waterloo athlete Matt Socholotiuk received the dubious distinction of becoming the first North American athlete to test positive for HGH. He also tested positive for steroids.
Following a hearing and appeal, the first-year running back from Waterford, Ont., received a sanction of three years' ineligibility from university sports.
Socholotiuk, who is not registered to attend Waterloo this semester, could not be reached for comment.
But a hearing decision quotes him as saying the blood test for HGH is "very unreliable."
He also told an arbitrator he didn't know the testosterone he took was banned and "I feel ashamed and embarrassed."
The CCES announced sanctions against three other Waterloo football players Wednesday: Spencer Zimmerman-Cryer, Aubrey Jesseau and Brandon Krukowski.
All three are registered at Waterloo this year, said a university spokesperson.
None responded to requests for an interview Wednesday.
In June, university officials voted to suspend the Waterloo football program after nine players failed team-wide drug testing.
Melia said the large North American professional leagues should now "accept their social responsibility and take full advantage of the powerful role they can play in the fight against doping in sports."
NHL deputy commissioner Bill Daly said in a statement the league is interested in pursuing the idea, "but only if we can be satisfied that the testing technology is reliable and only in conjunction with, and in reliance on, an agreement with our players' association."
Major League Baseball recently implemented HGH testing in its minor leagues, where there is no collective bargaining, but has announced no plan for doing the same at the game's top level.
Professional sports unions have traditionally resisted the move, arguing there remains no scientifically valid test for HGH.
Melia chastised the NFL and MLB players' unions in particular for "hiding behind" that claim.
"They need to stop sending a mixed message to our children and youth that it is okay to cheat and to risk your health to set records and pursue winning at any cost," he said.
The Canadian Football League recently became the first professional sports league in North America to test for HGH.
But the program, which does not meet the public transparency standards of the World Anti-Doping Code, does not make first-time violations public.
"The professional leagues in North America . . . have certainly dragged their heels for some time," said Melia. "First and foremost, these are businesses and their bottom line is making money."

This entry was posted
on Thursday, September 9th, 2010 at 7:23 pm and is filed under NEWS, STEROIDS.
You can follow any responses to this entry through the RSS 2.0 feed.
You can leave a response, or trackback from your own site.