>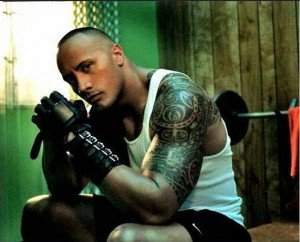 Former pro wrestler Dwayne Johnson currently stars in the movie The Tooth Fairy. Yes, he plays a Tooth Fairy in the movie. Prior to the Tooth Fairy role, he starred in the movie Return to Witch Mountain.
I thought he was great in Witch Mountain as a taxi cab driver who helps two teenage aliens save the world. Tooth Fairy seems a little hard for me to swallow. I haven't seen it yet and the reviews are moderate.
Check out this video of Dwayne Johnson becoming an honorary player for the L.A. Kings hockey team. You will also see some footage from his movie The Tooth Fairy.
Before Johnson was a movie star he was known as The Rock in Wrestling World Entertainment. He holds second place for the most reigns as WWF/E Champion. He held the title seven times before he left the business in 2004.
Wrestler to Movie Star
He has successfully crossed over from sports to film. According to his interview in Men's Health, his childhood dream was to be an actor in Hollywood.
Keeping himself physically fit was a big part of that dream. So, I took a look in the latest issue of Muscle & Fitness magazine that features Johnson on the cover of the March issue.
In the magazine I read how Johnson remains an athlete. Though, he doesn't obsess over working out and sticking to a diet. Johnson's success in staying fit is to perform his workouts properly.
The magazine brags his workout with photos that clearly show his jaw dropping and mouth watering physic. It is very clear this man is doing it right.
He is also the guest editor for the March issue where he emphasizes that hard work always pays off I agree with Johnson. Hard work does pay off in any field.
Johnson's workout starts off with a warm up with a pair of 40-pound dumbbells. He combines high repetitions with short rest periods and supersets.
His workouts are comparatively short about 45 minutes. He gets to the point and finishes the job.
He gravitates to split body-part training. He works only one or two major muscle groups a day.
An excellent routine that he considers a heavy workout is military press, back extension, leg press and preacher curl.
Cheating is Okay
When I read that Johnson's secret to dieting is cheating, I went ecstatic. I love to cheat too. It's fun. He feels cheating is essential to his diet.
His favorite cheat foods are donuts and pizza. I can agree with the pizza, but donuts are too raunchy for my taste. But don't get Johnson wrong. I am sure he eats Ben & Jerry ice cream.
He has a well-rounded diet. He works at consuming 1 gram of protein for each pound of his bodyweight. He eats a reasonable amount of carbs.
He takes advantage of protein shakes. He regularly eats beef, chicken breast and vegetables. Supplements play an important part of his diet as well.
Joint Formula
He includes multivitamins, ZMA, joint formula and glutamine. The fact that he takes joint formula and glutamine is interesting. I have been contemplating taking the same supplements for my knees.
Check out this video of Dwayne Johnson doing his thing — working out. Try not to get too excited girls.
source:genxxl.com

This entry was posted
on Sunday, April 18th, 2010 at 10:11 am and is filed under NUTRITION.
You can follow any responses to this entry through the RSS 2.0 feed.
You can leave a response, or trackback from your own site.