>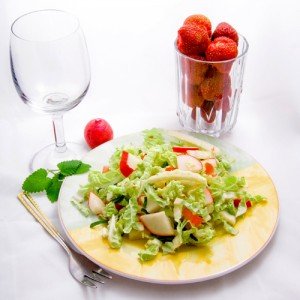 My chiropractor swears by eating raw food. He says it keeps him happy and healthy. He does look healthy and seems happy.
I personally like to eat cooked food every now and then. I can't image eating only raw food. I'd miss out on holiday meals and trips to the frozen yogurt shop.
Raw Foodie
I came across an interview with raw food bodybuilder Stephen Arlin at Living and Raw Food. Arlin's perspective on natural bodybuilding is worth considering.
He also wrote a book entitled Raw Power! It is the only book about building strength and muscles naturally the raw way. I like that idea.
Raw Power! is about bodybuilding naturally with a 100% natural diet. The idea in the book is that your body can stay fit, strong, healthy and energetic the raw way.
Arlin argues that gorillas have the strength equivalent to bench pressing 4,000 pounds — that's 40 times stronger than the average man.
Gorillas eat 100% raw plant foods. Arlin also points out that all the largest and strongest mammals on Earth are 100% raw plant eaters.
He lists the gorilla, the elephant, the hippopotamus, the giraffe, the rhinoceros and so forth. I am sure you can think of some animals that are100% raw plant eaters!
Man vs. Animal
If I think about, I have seen some bodybuilders who look like gorillas.
Arlin told Living and Raw Food that he increased his massive strength with raw food. As a result, he needs very little time to rest between sets.
Of course, the change in Arlin's body wasn't as fast as hormone enhancers. He went through a mild detoxification and shed "51 unhealthy pounds."
He has since gained back "30 pounds of healthy solid muscle."
Arlin believes building a body with cooked-food and other unnatural substances will eventually atrophy and "deflate" the body. Muscles built on raw-food nutrition last much longer, because they are naturally built.
I can agree with Arlin on this point. In my research, unnatural substances build the muscle fast. Raw food builds the body slowly.
As I have said, I am not a raw foodie. I eat cooked food, so I can't agree with Arlin on going completely raw.
Natural is Appealing
But Arlin's approach to bodybuilding is appealing. It is natural. For obvious reasons, it is better for your body in the long run.
Arlin swears that a raw food diet can build muscle. "Whether you want to look like a raw version of Arnold Schwarzenegger or you just want a slim, muscular body capable of endless energy and stamina."
It is hard for me to imagine a bodybuilder eating raw food. Most raw food eaters, like my chiropractor, are not big with muscles.
Arlin has proven it is possible to gain muscle weight on a raw food diet. He says all it takes is determination.
"People must conclusively decide that they want to gain strength and weight and make it their number one priority.
"People want a quick fix. They want to gain weight and muscle now, today, yesterday! There is no magic pill…only a magic process.
The power of mind is incredible. If you truly know in your mind that you can accomplish a goal, you can do it; if you think you can't build strength and muscle, then you can't."
I can agree with Arlin that quick fix is just that quick. Bodybuilding is a process. If you want it to last, you make it your number one priority, naturally.
source:http://genxxl.com

This entry was posted
on Saturday, April 17th, 2010 at 9:38 pm and is filed under NUTRITION.
You can follow any responses to this entry through the RSS 2.0 feed.
You can leave a response, or trackback from your own site.