>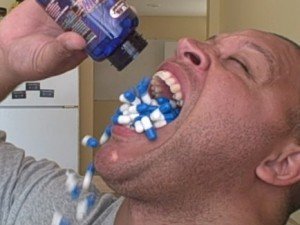 The fifth of our bodybuilding nutrition principles encourages you to stop megadosing. It is a misconception amongst bodybuilders that nothing succeeds like excess. Meaning that if something is good for you, then twice as much is even better, and that too much is never enough. This is a motto which is prevalent in bodybuilding and strength training, and this is particularly the case when the subjects of protein and supplements are mentioned.
It is for this reason that bodybuilders and strength trainers tend to megadose on supplements and foods in the mistaken belief that the more they eat and take, the more muscle they will build. However, nothing could be further removed form the truth. You require a certain and specific amount of nutrients for muscle building based on your individual needs. If you eat more than you need it will just turn into unsightly fat. If you megadose on bodybuilding supplements, the extra will only be excreted or at worst, can be toxic to your body.
Later in this series we'll look at this subject in more detail and provide guidelines to help you calculate exactly how much protein and other supplements you need to consume in order to build lean muscle.
source:bodybuilding-blog.com
Tags: Bodybuilding Nutrition, Megadosing

This entry was posted
on Saturday, April 24th, 2010 at 10:54 pm and is filed under NUTRITION.
You can follow any responses to this entry through the RSS 2.0 feed.
You can leave a response, or trackback from your own site.