>
Ron Avidan was in attendance for the 2010 NPC West Coast Classic over the weekend. He not only snapped several photos of each division on stage but also hundreds of candid/backstage shots. Check out all the photos and full contest results here.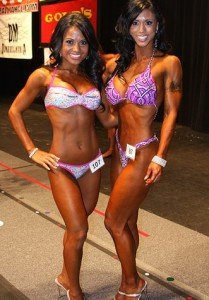 Bikini Overall winner Khay Rosemond & Figure Overall winner Darice Castro.

This entry was posted
on Tuesday, June 29th, 2010 at 4:13 pm and is filed under FEMALE BODYBUILDING, NEWS.
You can follow any responses to this entry through the RSS 2.0 feed.
You can leave a response, or trackback from your own site.