>
Coming weekend will be important foe NPC/IFBB. In Tampa 70 IFBB competitors will take stage at the Pro Bodybuilding Weekly Championships. Competition will be supported by Tim Gardner, very generous person who know how to takes great care of the audience. At the same time on Friday evening will held the NPC show. To obtain more information about this show and method to purchase tickets visit: ifbbtampapro.com.
Another event will take place in Michigan – Figure Olympia champ, Nicole Wilkins-Lee's Fitness, Figure & Bikini Classic. It will be held in conjunction with the Natural Michigan Bodybuilding Championships in Detroit, Michigan this Saturday. More information on this show you can obtain following this site: www.MichiganNPC.com.
This weekend in Denver, Colorado, about 100 competitors will take at the 2010 Colorado Stage Championships. Promoter Jeff Taylor tapped Tokyo Joe's at the title sponsor for this event. For more information follow the link: www.ColoradoNPC.com.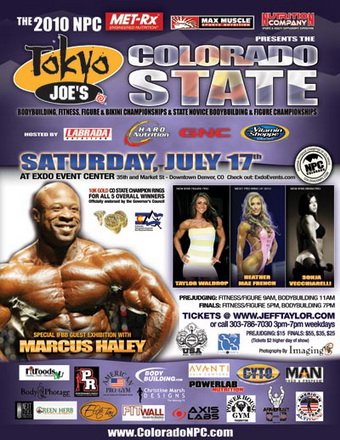 This entry was posted
on Thursday, July 15th, 2010 at 8:59 pm and is filed under NEWS.
You can follow any responses to this entry through the RSS 2.0 feed.
You can leave a response, or trackback from your own site.