>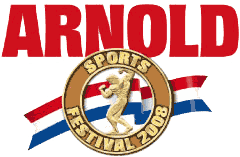 The 21st Arnold Classic, the premiere event in men's professional bodybuilding, hosted the sport's elite competing for top prize money and the coveted Audemars Piguet watch. Branch Warren, Victor Martinez and more compete on the historic Veterans Memorial stage.
This spectacular event annually features the presentation of the Arnold Lifetime Achievement Award, world-class entertainment, and the final event of The Arnold Strongman Contest. A total of 13 bodybuilders participated in the 2009 Arnold Classic competition. US Bodybuilder Kai Greene won the 1st price and recived a check about $130,000. Congratulations. Victor Martinez of the United States won 2nd place. And Branch Warren placed 3rd in this year's Arnold Classic.
US female bodybuilder Iris Kyle became Ms. International 2009.
US female athlete Zivile Raudoniene won the Figure International Championships at the Arnold Classic 2009 and received a check about $16,000.
US Fitness Athlete Jen Hendershott won the Fitness International competition at the Arnold Sports Festival 2009 and received a $25,000 check.
For 2009 year, the winner of the Arnold Amateur IFBB International Bodybuilding, Fitness, Figure and Bikini Championships are:
Jayme Galloway-Canada – Overall Figure Winner
Sylvia Tremblay- Canada – Overall Fitness Winner
Egberton Rulove Etienne Winklaar,NL -Overall Men's Bodybuilding Winner
Elena Shportun, Russia – Overall Women's Bodybuilding Winner.

This entry was posted
on Tuesday, May 19th, 2009 at 9:30 pm and is filed under NEWS.
You can follow any responses to this entry through the RSS 2.0 feed.
You can leave a response, or trackback from your own site.