>
Ronnie's words : "Waiting for the results of my Mylegram, seems these days I just live in the hospital, oh well"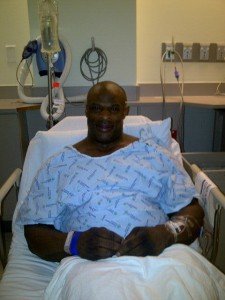 A myelogram uses X-rays and a special dye called contrast material to make pictures of the bones and the fluid-filled space (subarachnoid space) between the bones in your spine (spinal canal). A myelogram may be done to find a tumor, an infection, problems with the spine such as a herniated disc, or narrowing of the spinal canal caused by arthritis.
The spinal canal holds the spinal cord, spinal nerve roots, and the subarachnoid space.
During the test, a dye is put into the subarachnoid space with a thin needle. The dye moves through the space so the nerve roots and spinal cord can be seen more clearly. Pictures may be taken before and after the dye is used. To get more information from the test, a CT scan is often done after the X-rays, while the dye is still in your body.
Tags: Ronnie Coleman, Ronnie Coleman is in the hospital

This entry was posted
on Thursday, December 29th, 2011 at 2:29 pm and is filed under NEWS.
You can follow any responses to this entry through the RSS 2.0 feed.
You can leave a response, or trackback from your own site.