>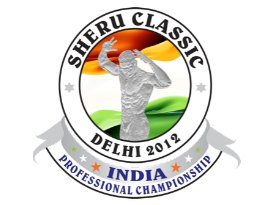 After getting great response from the inaugural event in Mumbai last year, Sheru Classic Professional Championship is all geared up to set new standards in the field of Bodybuilding with its second edition in Delhi (India). This year the event promises to be bigger and better and will offer a cash prize worth $210,000, the world's third largest in this category .In addition the main championship, Sheru Classic Delhi 2012 will also comprise of the Sheru Classic Health & Fitness Expo which will be held over two days (5th-6th October) with opportunities for the entire Health and Fitness industry, including fans, fitness enthusiasts and personal trainers, to interact with each other and with their favorite domestic as well as international athletes.
Sheru Classic Professional Championship 2012 is Asia's only IFBB (International Federation of Bodybuilding & Fitness) Pro League Event and will witness fierce competition between some of the world's best Professional Bodybuilders, including Phil Heath, Jay Cutler, Toney Freeman and Kai Green. It will see the participation of Professional Women's Figure Athletes like Nicole Wilkins, Erin Stern, Heather Dees, Felicia Romero and Candice Keene. Apart from the two categories – Professional Men's Body Building and Professional Women's Figure – that were introduced last year, two new categories – Professional Men's Under 212 and Professional Women's Bikini – have been added to the competition this year. The Championship has been awarded a TIER 2 status event for Olympia qualifier points wherein the points earned by the winners of Sheru Classic 2012 will help them qualify for the Olympia Championship 2013.
The two day Sheru Classic Health & Fitness Expo will have features like Beach Body Area, Nutrition Cafeteria, Power Zone, Amphitheatre & Seminar Zone. It will provide a unique platform for conducting business in the health, fitness and supplements industries with over 70 exhibitors displaying their products and services. Presented under the brand Sheru Classic Production Pvt. Ltd. (SCP), Sheru Classic is the brainchild of the company's Co-Founder and CEO, Sheru Harmeet Aangrish – India's second Professional Bodybuilder – under the guidance of his elder brother and SCP's Founder & Chairman Hemant Aangrish. Commenting on this year's event, Mr. Sheru Aangrish said, "Adhering to our tagline 'Transform–Nation', Sheru Classic Delhi 2012 is going to be the turning point of India's foray into Health and Fitness. It is one such event whose total magnitude cannot be put into words, one must experience it. We are bringing to you a larger than life show!"
Tags: Sheru Classic Delhi 2012

This entry was posted
on Thursday, July 26th, 2012 at 10:18 am and is filed under NEWS.
You can follow any responses to this entry through the RSS 2.0 feed.
You can leave a response, or trackback from your own site.