>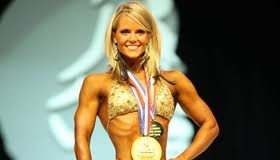 Golden's special Olympia issue, out this week, features a groundbreaking workout with all three reigning Ms. Olympia's: Iris Kyle (bodybuilding), Nicole Wilkins-Lee (figure) and Adela Garcia (fitness). They trade sets, combining exercises and techniques and sharing training secrets. Through the course of that workout, we learned precisely what each of the three does on back day, and we'll be sharing those routines with you here at flexonline.com.
First up is the reigning Figure Olympia winner Nicole Wilkins-Lee. As the 26-year-old beauty prepares to defend her title on September 24-25, she shared some back training tips with us, and she details the back routine that has helped her win her win four contests in a row, including last year's Figure O and this year's Figure International. And be sure to see all four Olympia winners training back in the new collector's edition of Golden: Wilkins-Lee, Garcia and Kyle together and, in another Golden exclusive workout shoot, reigning Mr. Olympia Jay Cutler.
CHECK OUT BIOS AND PICS AT OUR OLYMPIA LANDING PAGE
WILKINS-LEE'S BACK TRAINING TIPS
* "Just because I'm a figure competitor doesn't mean I shy away from free-weights. I always do at least one kind of free-weight row in my routine, but I keep the reps at around 15."
* "I find 15 reps is best for bringing out the muscle qualities I want without packing on a lot of mass."
* "I like to finish the back routine include here with back extensions for 3 sets of 20 reps to bring out my lower back and tie it in with my glutes."
* "I train back once per week."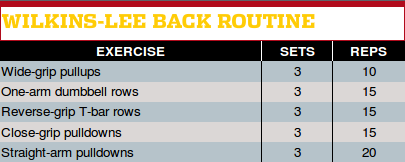 Tags: Nicole Wilkins-Lee

This entry was posted
on Thursday, September 2nd, 2010 at 1:07 pm and is filed under FEMALE BODYBUILDING, NEWS.
You can follow any responses to this entry through the RSS 2.0 feed.
You can leave a response, or trackback from your own site.