>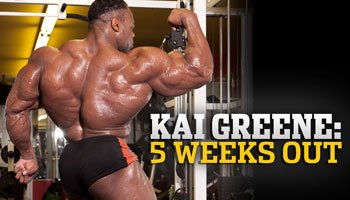 We're exactly 5 weeks out from the 2010 Olympia, and things are heating up in Brooklyn, New York.
When FLEX traveled to check in with Kai Greene earlier this week we took a series of posing shots of the two-time Arnold Classic champ. These pictures were taken on Monday, August 16. In them, Greene is weighing roughly 295 pounds.
For those who doubt that number … Check out the picture below, taken on Sunday August 15 at Bev Francis' Powerhouse Gym.
Greene will be guest posing tomorrow at the Coastal USA Bodybuilding, Figure and Bikini Championships in Duluth, Georgia
Tags: 2010 Mr. Olympia, Kai Greene

This entry was posted
on Monday, August 23rd, 2010 at 2:55 pm and is filed under NEWS.
You can follow any responses to this entry through the RSS 2.0 feed.
You can leave a response, or trackback from your own site.