>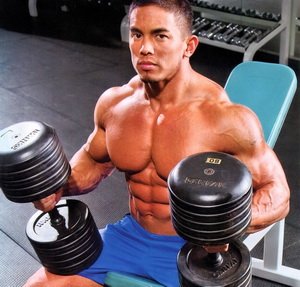 by Lonnie Teper
Did I tell you about the time I looked Stan McQuay directly in the eye at Gold's Gym, Venice, and suggested, "Let's take it outside"?
Yesiree, the same Stan McQuay who earned pro status with a victory in his class at the '06 Nationals. The dude who added a pro title to his résumé in 2009. The former high school football star, martial arts standout—and gangbanger—who was once escorted out of a college classroom by police officers.
The celebrity trainer who lists rapper Dr. Dre, actor Gerard Butler and mixed martial arts champion Georges St-Pierre among his clients. The fella who wheels around in several luxury rides, including an Audi R8 and a Porsche 911.
Believe what you will, but that's exactly what I said to Stan the Man on a cool, windy day in early February. I'd wanted to conduct our interview in the conference room on the second floor at the Mecca, but after waiting several minutes for confirmation, we decided he could talk into my tape recorder on the bench in the parking lot.
Now that I've gotten your attention, let's take a closer look at the 36-year-old McQuay. You may be surprised what you find out. I was, and I've known him for a decade.
LT: Not too many realize you were born in Japan.
SM: Yes, I was. My mother is Japanese, my father is Irish. I don't remember much about that time, though. I was only one when we moved to Illinois.
LT: When did you hit Southern California?
SM: When I was eight. We lived in Illinois for a few years, then moved to Van Nuys, in the San Fernando Valley. We eventually settled in Canoga Park.
LT: I hear you weren't too shabby on the high school football field almost a couple of decades back. Word is you were a quick, little—and I do mean little—tailback.
SM: I played football from when I was nine years old and practiced martial arts from the age of 16. I was an all-league running back at Canoga Park High and, yes, I was really small. I was 5'7" [his current height] and weighed about 145 pounds. I had about 900 yards as a senior.
LT: I also hear you started at El Camino Real your freshman year—the high school with perhaps the highest academic reputation in the Los Angeles Unified School District. Why switch from that esteemed institution in lovely Woodland Hills to Canoga Park High, in a vastly rougher area?
SM: I got kicked out of El Camino—had a couple of altercations.
LT: So you were a hood as a freshman?
SM: [Long pause] I wasn't a hood. I did get into a couple of fights here and there, but when I transferred to Canoga Park, it was a whole different story.
LT: As in eventual gang member?
SM: Yes. I ran with a pretty big gang in the Valley; I don't want to give them props, so I won't name the gang. I was involved with them from my sophomore year in high school through my freshman year in college.
LT: Hold on a second. You were gangbanging and earning all-league football honors at the same time?
SM: Oh, yeah. Half my team was gang members; that's the biggest reason we didn't have a successful year. Instead of playing football, a lot of my teammates were more interested in getting into fights during the game.
LT: Did you get into a lot of trouble during that time?
SM: I did. I spent some time in and out of jail and built a lengthy criminal record as a kid.
LT: What made you decide you weren't gonna bang with a gang any longer?
SM: A couple of things. In '94 or '95 I was sitting in my classroom at Pierce Community College and remembered that police officers were waiting outside. I was at the tail end of messing around, but the police were after me for something I had done over a year earlier. The officers actually came into the classroom and arrested me. They took me out of the room and walked me through campus, in front of thousands of students. That was a huge embarrassment for me.
Also, my best friend at the time was arrested for murder; he's still in prison.
I ended up pleading no contest and got two years' probation. I did community service for a year. I was cleaning freeways, and after doing a year of that crap, I saw that nobody from the gangs were there, seeing if they could help me out. That's when I knew I had to clean up my act for good.
LT: When did you begin pumping iron?
SM: My senior year in high school. A couple of colleges had shown some interest in me—my coaches helped me put together a demo highlight reel. But, like I said, I was tiny, 145 or 150 pounds, max. I was also heavily into Brazilian jujitsu at the time. I had hopes of playing college ball and also of becoming a professional fighter. That's when UFC 1 and UFC 2 were around.
LT: Where did you train, the high school gym?
SM: Naw, we didn't have weights in our high school gym. I got a membership at a 24 Hour Fitness, then eventually moved over to Powerhouse Gym in Chatsworth. There were a lot of bodybuilders working out there, and that's the environment I needed to get better.
LT: I hear you thought Pierce—normally a two-year program—was a four-year school.
SM: [Laughs] Yeah, I went to Pierce for four years, got my A.A. degree, then transferred to Cal State, Northridge.
LT: In between stints at Twin Towers [a jail in downtown Los Angeles], of course.
SM: [Laughs louder] Good one. I only had three classes to go at Northridge toward my degree in business, with an emphasis in finance, but I didn't finish. At the time I had a couple of good, high-paying jobs and didn't feel I needed the degree.
LT: Judging by your latest crib—and the wheels you ride around in—you've showed, at least to date, that it wasn't such a bad decision. In terms of your bodybuilding career, I know you won pro status in both Musclemania and the Musclemania Superbody organizations, but what was your first NPC contest?
SM: I did the IRON MAN Naturally—I think it was 1999. I took fourth in my class.
LT: It didn't take you long to improve on that. A year later you nabbed the middleweight division at the Cal, and you were fourth at the USA, a class you won in 2002.
SM: That's accurate. Then I finished second in my class at the Nationals in 2003 [to Eryk Bui] and 2004 [to Jimmy Canyon].
LT: You took two years off to party like a rock star after the '04 Nationals and actually contemplated retirement. But you came back at the '06 Nationals—as a light heavyweight for the first time. I tabbed Charles Dixon to win the class but ended up announcing you as the victor, which, of course, brought you pro status.
SM: I was burned out after the '04 Nationals and decided to concentrate on my business. I started training again about a year later and ended up competing. I was only about 182 pounds or so. Dixon was a good pick—thick as hell at about 5'3" and 195 pounds. It was like apples and oranges, two totally different physiques.
LT: There was no 202-and-under division in the pro ranks at that time. Were you still planning on throwing your hat into the pro ring eventually?
SM: I will say it was a short-term goal of mine to obtain my pro card, but I certainly never had the Olympia dream. I'm realistic; I'm way too small for that.
LT: But the 202 made its entrance in '08, and you were back onstage a year later. An auspicious pro debut at that—you won the Jacksonville Pro. No offense, but once again, you weren't my Swami selection—I went with Daryl Gee.
SM: I'm not going to lie—Gee has to be one of the best middleweight winners ever, so I was concerned about him. At the same time I knew I'd have 10 to 15 pounds on him, so that was an advantage. I knew Dixon was going to be there, our first battle onstage since the Nationals.
LT: And you whupped Charles again. So did Gee and Tricky Jackson, who got second and third. Two weeks later, at the Europa, though, that's exactly what happened to you.
SM: [Laughs] For sure. I was way off [McQuay finished eighth]. I had never been in that bad a shape for a contest in my entire career.
LT: What went south?
SM: The timing of the contest. I had already signed the contract to do the Europa before I competed in Jacksonville. I was doing photo shoots after my win and trying to stay as lean as possible. I overdieted for the shoots, then overcarbed in trying to catch up. I looked in the mirror before the show and said, I look like shit.
LT: Then came the first ever Olympia 202 Showdown, and you finished almost as far back as I was in the audience.
SM: I might as well have been out there with you. I finished 14th. I just couldn't get it on track again. I ended up dieting for about 20 straight weeks. I had never done anything like that—I was used to doing one show a year, for the most part.
LT: What's your game plan for 2010?
SM: We're [trainer Charles Glass, nutritionist-competitor Dave Kalick and McQuay] playing it by ear now. This is my first real off-season, and I began hitting the weights hard right after the Olympia. If I can hover around 220, that's my goal. I was 212 today. So we'll make a decision soon about what show to do next. Probably the same contests as last year, considering the time frame.
LT: What types of training programs have you followed through the years?
SM: Most of my weight-training life was a five-on/two-off routine. I lifted Monday through Friday and took the weekends off. I hit a big bodypart and a small bodypart each day. Monday it was chest and triceps; Tuesday was back and biceps. I'd hit legs on Wednesday, shoulders and traps on Thursday and usually arms by themselves on Friday. I was a high-rep, high-sets type of guy back then—20 sets, 15-20 reps.
LT: When did you change things up?
SM: I hooked up with a trainer named Pano in 2004. He had worked with Chris Cormier and Melvin Anthony. He had me go much heavier, with very strict form. That's when I really started making changes in my physique. I went to a three-on/one-off schedule, only one bodypart a day.
We did about four exercises per bodypart, eight to 10 reps—sometimes less. A lot of pyramids and drop sets. Everything was timed—I went from two-hour workouts to 45 minutes. But I was much more exhausted.
LT: Has Charles implemented different training principles from Pano's?
SM: Charles is all about angles. He can take a machine and show you how to use it two or three different ways. You pick a bodypart you want to improve on, and he'll show you three or four different exercises to accomplish that. The guy is so knowledgeable—what does he have, 30-plus years in the gym? Nothing beats that.
We do pretty much a six-day routine: one bodypart a day, four exercises. I've been doing that for about the past year.
LT: How do you overcome plateaus?
SM: You have to mix it up—you can't be afraid to try new things. That's why I've worked with different trainers. I've been working out for 17 years, but you never know everything—you never know enough.
You need to train for longevity; don't be stupid and try to lift a house and break records. As a bodybuilder you're trying to sculpt the body.
LT: What about cardio?
SM: I never did any cardio until '04 or '05. Since I started with Charles and Dave, they've had me doing cardio first thing when I get out of bed—only 20 minutes, but high intensity. I have an elliptical and a treadmill at home. Then at night I do an hour of steady-pace cardio. And I'm not worried about losing weight because my diet is on point.
LT: Do you eat clean pretty much year-round?
SM: I always do. To me cheating is overeating on the carbs—extra rice or some pasta. I live on my own. I don't know how to cook junk food.
LT: What caused your personal-training business to take off the way it has?
SM: I started training people in '99. A lot of it was by word of mouth, and also being in the right place at the right time. I had been friends with Dr. Dre before. He lived in the Valley and started training at Powerhouse here and there. I started working with him in 2006. He's taking a break right now, finishing up his latest album.
LT: How did you hook up with Gerard Butler. Another Valley guy?
SM: No. I trained his stunt double. I've worked with a lot of stuntmen over the years, like the American Gladiators. That's how I got into that niche.
LT: Anybody else we'd recognize?
SM: There have been quite a few. I've worked with Grammy winner Raphael Saadiq, a few NFL players. The most notable celebrity might be Georges St-Pierre, the UFC Welterweight champion. He's in Montreal right now, but when he comes to the West Coast, I help him out with his weight training.
LT: What are these celebs like in real life?
SM: There's a reason they are so successful; even in the gym they give it 100 percent all the time. Focused and driven.
LT: Who has the best bod of the stars?
SM: Let me tell you, in the rap industry Dr. Dre has the best physique, hands down.
LT: No way! Over LL Cool Jay and 50 Cent?
SM: He does—he just doesn't show it off.
LT: Has the economy affected your life much?
SM: Absolutely. My personal-training business has dropped 30 percent; I bought a five-bedroom, four-bath home in Porter Ranch [near Northridge] in 2007. I also own a home in Canoga Park, but I live in Porter Ranch. I got a home that large because, as I said, I want to have a lot of kids. I'm upside down on it with the drop in the housing market, but I plan on staying here, so that will work itself out in time.
LT: Perhaps your greatest achievement, both on and off the stage, has been your ability to corral some of the hottest babes in the industry. The word on Stan McQuay was how much he liked to play. You were to the nightclub scene what Brooklyn Decker is to the Sports Illustrated swimsuit issue. I know you have great hair, but what's the real secret of your success?
SM: [Busts up] I was like that for a long time. But now I really hope to find the right one soon, get married and have lots of kids.
SM: Really? Can bodybuilding's answer to George Clooney really settle down?
SM: Yes, I can. I've had my fun, for sure, but it's time to move on to the next phase of my life.
LT: Do you have any siblings?
SM: No, not yet.
LT: Stan, siblings are brothers and sisters, not children.
SM: [Laughs loudly] Yes, I have one younger brother. His name is Mike.
LT: You love bodybuilding and martial arts. Any other passions?
SM: Snowboarding! I've been snowboarding since 1985; it's a cross between surfing and skateboarding on snow. I've traveled to places all over the world and have achieved my goal of hitting all the major resorts. I've been to Japan, Canada and all over the United States. In the past five or six years, though, I haven't gone as hard as I used to, because I don't want to get hurt.
LT: In your spare time—like you have much—do you have anything else going?
SM: Actually, yes. I'm in the process of completing my DVD. It's called "Rising Sun," and it follows my training up to the Olympia. It should be out by the time this article comes out.
LT: In all seriousness, you seem to have a great life. Two homes, a successful training business, pro bodybuilding status.
SM: I'm very blessed, am very happy with where I'm at. I couldn't ask for anything more.
LT: Not true. How about a lovely, devoted wife and mother to those kids you long for?
SM: Yes, glad you added that. I have almost everything I could ask for. Check back next year.
source:ironmanmagazine.com
Tags: Stan McQuay

This entry was posted
on Saturday, June 26th, 2010 at 3:42 pm and is filed under NEWS, PHOTOGALLERY.
You can follow any responses to this entry through the RSS 2.0 feed.
You can leave a response, or trackback from your own site.