>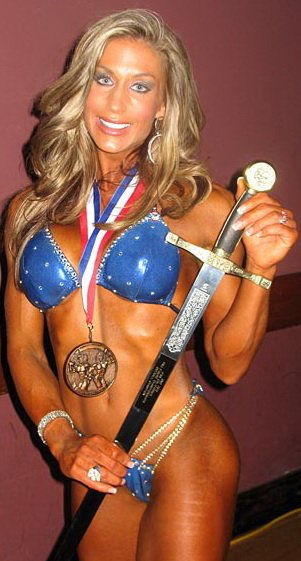 Here's what Heather Mae French had to say after her repeat win at the California Pro Figure competition, which was held last week. I caught up with Heather, trophy in hand, and her daughter Autumn a few minutes after she was crowned Cal Pro champ. The good news for her competitors: She'll be taking a break till the Olympia.
Following this conversation we discussed how one could get the trophy, a large sword, on a plane back to Colorado and whether it would be useful in the kitchen. Shish kabobs for all!
Find my report on the Cal Pro figure below.

This entry was posted
on Saturday, June 26th, 2010 at 10:03 am and is filed under FEMALE BODYBUILDING, NEWS.
You can follow any responses to this entry through the RSS 2.0 feed.
You can leave a response, or trackback from your own site.