>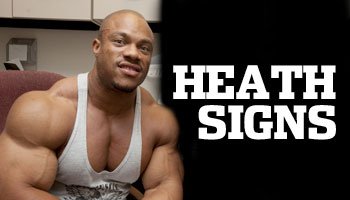 Phil Heath signs a contract extension with Weider Publications
Phil Heath, one of bodybuilding's youngest and brightest stars, signed a multi-year contract extension with Weider Publications today. Heath, who turned 30 years old last December, has been a Weider athlete since 2005.
"It's always been a great experience to be a part of the Weider/AMI organization," Heath said. "Just like last time I signed, and the first time, I just get excited knowing I get to continue my career with this company. FLEX is the number-one-selling bodybuilding magazine in the world, and all over the world people get to see articles with me in them, and get to know a little bit about me as an athlete and a person. Traveling and meeting those fans has been a great experience."
Heath earned his pro card by winning the heavyweight and overall titles at the 2005 NPC USA Bodybuilding Championships. Upon entering the professional ranks he quickly earned his nickname "The Gift" by winning the first two contests of his pro career, the 2006 Colorado Pro and the 2006 New York Pro.
"We are thrilled that Phil has decided to sign an extension with Weider Publications," FLEX Editor-In-Chief Allan Donnelly said. "He's been one of the cornerstones of our athlete program since he came on board in 2005, and it has been a pleasure to watch him grow and mature into the competitor and person he is today. Phil has that rare combination of talent, work ethic and charisma that can make him one of the best ambassadors our sport has seen, one we haven't seen for quite some time."
Now in his fifth year as a pro, Heath has more than lived up to the lofty expectations bestowed upon him at the start of his career. Burdened with the all-too-cliche tags of "The Future of Bodybuilding" and "A Future Mr. Olympia" early in his career, Heath has been one of the few to live up to the advanced billing. Although criticized by some for bypassing the Olympia during his first two years in the pros, Heath proved the decision was a good one when he debuted in Las Vegas in 2008. At that contest, Heath joined an elite crew that includes only Lee Haney, Rich Gaspari, Dorian Yates, Flex Wheeler and Kevin Levrone by placing in the top three in his inaugural appearance on bodybuilding's biggest stage.
Heath dropped two notches to fifth at last year's Olympia due to a severe stomach ailment suffered 24 hours before the Friday prejudging, a virus that caused him to lose 10 pounds overnight. He rebounded from those disappointing circumstances by showing up at the 2010 Arnold Classic this past March in his best-ever form and now enters his next competition, the 2010 Mr. Olympia, as a serious threat to claim his first Sandow.
"Getting ready for the Arnold Classic, I had all the motivation I needed with what happened at the Olympia last year," Heath said. "My motivation level is even greater now, because a lot of people thought I was very close to winning the Arnold. I think I showed a lot of improvement between [the 2009 Olympia] and that contest. Now I have even more time to get back to work for the [2010] Olympia, so I'll just continue to work really hard and see what happens. I'm ready to gun for that number one spot."
With nearly seven-months between the Arnold and September's Olympia, that relentless drive and solid work ethic should prove to be a lethal combination.
"Phil has a track record of improving with each and every competition he enters," Donnelly said. "You won't hear him complaining about his placing or whining about a lack of respect. He'll just continue to put in the work each and every day and continue to get better, and we have no doubt he'll live up to the expectations placed upon him early in his career. He's just getting started, and we're excited to watch what he's going to do next."
source:http://www.flexonline.com
PHIL HEATH'S IFBB CONTEST HISTORY
2006
Colorado Pro Championships, Winner
New York Pro Championships, Winner
2007
Arnold Classic, 5th
2008
Ironman Pro Invitational, Winner
Arnold Classic, 2nd
Mr. Olympia, 3rd
2009
Mr. Olympia, 5th
2010
Arnold Classic, 2nd

This entry was posted
on Friday, April 16th, 2010 at 8:42 pm and is filed under NEWS.
You can follow any responses to this entry through the RSS 2.0 feed.
You can leave a response, or trackback from your own site.