>
This might be the cutest video you see all year. Proud papa, IFBB Pro Bodybuilder Shawn Ray shared a link of his daughter performing a fitness routine. Parents are always proud of their children… which is understandable and to be expected. That said, I wasn't expecting much but after watching this video would be proud too. She rocked the stage and could be on her way to making more money than her papi if she makes a career out of it.
Four year old, Asia Monet Ray made her guest posing debut at the 2010 NPC West Coast Classic on Saturday. Check out the moves and stage presence little Asia Monet brings to the stage.
This four year old could teach of few competitors 5 and 6 times her age how to perform. Props!
Lonnie Teper proceeded to sing an Elvis tune to the youngster and reward her with a special award. Nice work LT.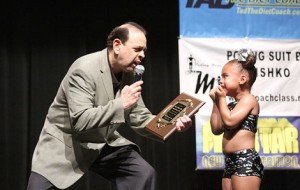 Lonnie breaking it down for Asia Monet at the West Coast Classic.
source:hardbody.com
Tags: Asia Monet Ray, Fitness Star

This entry was posted
on Tuesday, June 29th, 2010 at 4:51 pm and is filed under FEMALE BODYBUILDING, NEWS.
You can follow any responses to this entry through the RSS 2.0 feed.
You can leave a response, or trackback from your own site.