>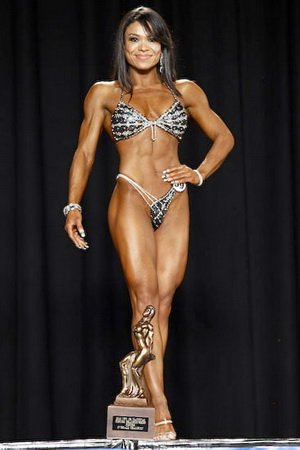 For Josie Zamora, having two jobs was never enough.
She's a middle school teacher and a choreographer, and on the morning of June 19, she was an amateur bodybuilder.
By the end of the day, that became a profession as well.
Zamora, a 37-year-old El Paso High School and UTEP graduate, won the 2010 NPC Junior Nationals Championships in Chicago in the Figure Class B Division, added the Best in Show trophy, and in the process earned an IFBB Figure Pro Card.
"It was amazing," said Zamora, who will make her professional debut in two weeks at the New York Pro Figure show. "I was the first name they called out; I thought that just meant I was the first person to earn a card.
"They started calling other girls but they didn't have a big trophy. Then it really dawned on me that I had won the whole show."
The show was the continuation of a passion that began in 2005, but in some ways goes back to her youngest days.
"I've always been thin," said Zamora, a chemistry and biology teacher at Chaparral Middle School, as well as a choreographer for the Miss El Paso competition and Sun Bowl halftime show. "Growing up with two older brothers, they teased me, they told me my body was boy-like. In high school, I'd wear sweatpants underneath my pants to make me look fuller. I was definitely aiming to sculpt my body as soon as I turned 18.
"I got into weightlifting, I got into dance."
Then, five years ago, she began to take the weightlifting more seriously.
She began training with local bodybuilder Scott Warman and by 2008 was competing in shows all over the country.
"I had a divorce, and after that, I wanted to challenge myself," said Zamora, who now trains at EP Fitness. "I wanted to focus on myself, become a better person physically, mentally, spiritually. I became a Christian then."
Two years ago, she changed trainers to Fabian Gutierrez, which proved a fateful move. The two are now engaged.
"I'm extremely proud," Gutierrez said. "I do everything with her and I'm proud to be a part of it. It's awesome to have a partner do the same thing you do, the same work ethic, and not only that, has a higher goal than you.
"She's an inspiration to me. She has the biggest heart. There's a lot of vanity (in body building), but to have someone like her who is so grounded is awesome.
"I'm extremely proud."
The one thing the Zamora doesn't have in her life is downtime. She does a 30-minute cardio workout every morning before going to teach, then another 30 minute cardio session after work followed by two to three hours of weightlifting in the gym. She does that six days per week.
There's also the choreography work, and she finds other ways to fill her time in the summer.
"Overtime," she laughed when asked how long she works. "I've always been super busy. I want to use all my talents and skills. I've been very blessed." Not surprisingly for a teacher, being a role model is important to her.
"As a Hispanic woman, there's this image of being obese, curvaceous, not caring about diet," said Zamora, who is 5-foot-2 and weighs 115 pounds. "People think of El Paso as an obese city. I want to create a positive image for Hispanic women and El Paso."
She currently is sponsored by Atp Nutrition Center and is looking for more sponsors to help defray the costs of travel and outfits. She plans on making the bodybuilding circuit for a while, as 37 is not old in the business.
"There are women competing up to age 50, and they look phenomenal," she said. "The idea that only young women look a certain way, it's the opposite in this sport. As you get older, your muscles look more mature.
Tags: Josie Zamora

This entry was posted
on Friday, July 2nd, 2010 at 2:41 pm and is filed under FEMALE BODYBUILDING, NEWS.
You can follow any responses to this entry through the RSS 2.0 feed.
You can leave a response, or trackback from your own site.