>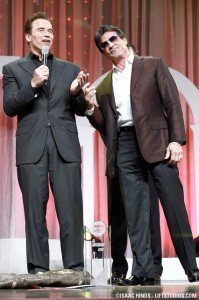 Winning an unprecedented fifth Ms. International title hung in the balance as four of the top six took their place to the side of the stage, leaving Yaxeni Oriquen-Garcia and Iris Kyle alone. Both women have been dominant in their sport, especially in Columbus with four wins apiece.
As the crowd awaited Lonnie Tepper's announcement on who would be the runner-up, both women had a moment and exchanged a few words. "We said congratulations, we both look great and we love each other," Kyle recalled.
Oriquen-Garcia's name was the one called, and Kyle once again found herself on top of the women's bodybuilding world. She was presented with $25,000, a Tony Nowak jacket and the first place trophy by not only Arnold Schwarzenegger, but actor Sylvester Stallone. A star-studded special evening, indeed.
"Iris is just cranking," legendary bodybuilder Bill Grant said. "She's won every major show."
Finishing third to sixth, respectively, were Debi Laszewski, Lisa Aukland, Betty Pariso and Dayana Cadeau.
In the Fitness International, Adela Garcia took home the big check and was followed by Julie Palmer, Tanji Johnson, Trish Warren, Oksana Grishina and Camala Rodriguez. Nicole Wilkins Lee is on a roll and added the Figure International to her Ms. Figure Olympia title. Erin Stern was the runner-up, with Heather Mae French (third), Mindi Smith (fourth), Felicia Romero (fifth) and Larissa Reis (sixth) also placing.
Source: ironmagazine.com/blog

This entry was posted
on Thursday, April 15th, 2010 at 8:59 pm and is filed under NEWS.
You can follow any responses to this entry through the RSS 2.0 feed.
You can leave a response, or trackback from your own site.