>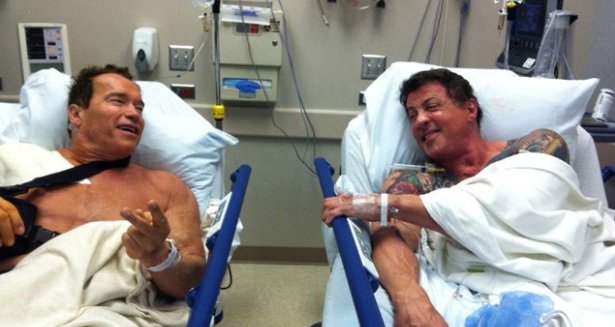 It promised to be hot! Two super stars of American action movies "The Expendables 2″ get in hospital. Schwarzenegger posted on his site picture showing him and Sylvester Stallone in a hospital. Arnold declared he was surprised meeting his partner in the hospital. Both of them came to recovery from shoulder injury. Famous 64 years patient, Schwarzenegger, came to the hospital to get "a little tune-up" for his shoulder. The 65-year-old "Rambo" star was also waiting for surgery on his shoulder. The guys are good now and nobody has stayed in the hospital overnight.
Arnold Schwarzenegger added at the end of his tweets that at the moment both of them are ready for another round of action when they shoot The Tomb.
Tags: Arnold and Stallone in hospital!, Arnold Schwarzenegger in hospital

This entry was posted
on Thursday, February 9th, 2012 at 10:27 pm and is filed under NEWS.
You can follow any responses to this entry through the RSS 2.0 feed.
You can leave a response, or trackback from your own site.