>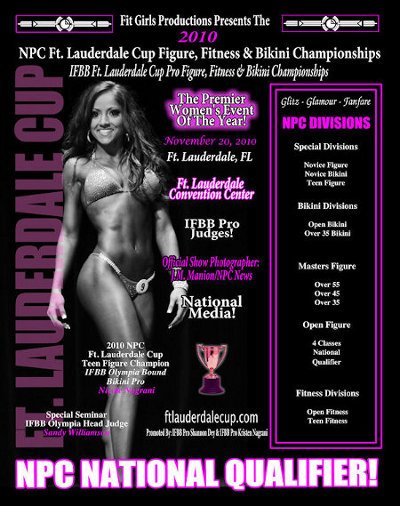 For the second year, the Fit Girls Productions Team of IFBB Pro Shannon Dey and IFBB Pro Kristen Nagrani are attracting an all-female IFBB/NPC in Fort Lauterdale, FL.
Fort Lauderdale Pro Fitness and Figure Cup will be held on November 20, 2010. The hotel that will host this event is located just off of the Intercoastal Waterways.
Ladies with well defined bodies will share the stage. There are some new competitors this year, and it will be a lot to watch there.
It is an event that you should not miss.
IFBB Ft. Lauderdale Pro
Saturday, November 20th, 2010
Peggy Sue Barber
Michelle Craven
Nicole Duncan
Allison Ethier
Debbie Fowler
Ryall Graber-Vasani
Donna Jones
Tamee Marie
Deana Martinez
Michele Mayberry
Venus Nguyen
Kary Odiatu
Minna Pajulahti
Kizzy Vaines

Figure
Tinamarie Bloomfield
Raechelle Chase
Ava Cowan
Ginette Delhaes
Elizabeth Earhart
Teresa Gillian
Alicia Harris
Aleisha Hart
Caroline Hernandez
Lenay Hernandez
Charmayne Jackson
Candice John
Candice Keene
CeaAnn Kerr
Georgina Lona
Amanda Marinelli
Petra Mertl
Teresita Moales
Emily Nicholson
Ann Pratt
Natalia Revajova Lenartova
Kristal Richardson
Susan Salazar
Elvimar Sanchez
Gennifer Strobo
Ann Titone
Mavis Tozzi
Tina White
Tessa Wood

Bikini
Jennifer Andrews
Missy Coles
Jessica Jessie
Nicole Moneer-Guerrero
Samantha Morris
Lindsey Morrison
Justine Munro
Nathalie Mur
Nicole Nagrani
Khanh Nguyen
Gemma Williams
Events:
Friday
3:00pm: IFBB Fitness/Figure/Bikini Mandatory Check-In – Ft. Lauderdale Hilton Marina
(Fitness Please Bring Music)
4:00pm: What the Judges Are Looking For – Special Seminar with IFBB Head Judge Sandy
Williamson – Ft. Lauderdale Hilton Marina
All IFBB and NPC Competitors are encouraged to attend. This is a RARE opportunity!
5:00 – 7:00pm: NPC Figure, Fitness and Bikini Check-In – Ft. Lauderdale Hilton Marina
(Fitness Competitors Please Bring Music)
7:00 – 8:00pm: Free Posing and Presentation Seminar with IFBB Bikini Pro/ Olympia Athlete
Jaime Baird and IFBB Figure Pro/Olympia Athlete Gennifer Strobo
– Ft. Lauderdale Hilton Marina.
Saturday
7:00am-8:00am: NPC Figure, Fitness and Bikini Late Check-In.
Ft. Lauderdale Convention Center. No entries will be accepted after 8am.
8:00am: Mandatory Competitor Meeting NPC Athletes – Ft. Lauderdale Convention Center
9:30am: Pre-Judging
NPC Teen Fitness Routine
NPC Open Fitness Routine
IFBB Fitness Two-Piece
IFBB Bikini
IFBB Figure
NPC Teen Fitness Two-Piece
NPC Teen Figure Two-Piece
NPC Open Fitness Two-Piece
NPC Figure Over 55
NPC Figure Over 45
NPC Figure Over 35
NPC Masters Bikini
NPC Novice Figure
NPC Novice Bikini
NPC Open Figure
NPC Open Bikini 5:00pm: Fit Girls Red Carpet Event
6:00pm: Mandatory Competitor Meeting Backstage
6:30pm: Night Show Begins
IFBB Fitness Routines
NPC Teen Fitness Routines
NPC Open Fitness Routines
NPC Figure Over 55 and Awards
NPC Figure Over 45 and Awards
Overall Figure Over 45
NPC Figure Over 35 and Awards
Overall Figure Over 35
Overall Masters Figure
NPC Masters Bikini and Awards
Overall Masters Bikini
Fit Girls Runway Event
INTERMISSION
NPC Teen Figure and Awards
NPC Teen Fitness and Awards
IFBB Figure and Awards
NPC Novice Bikini and Awards
Overall Novice Bikini
NPC Novice Figure and Awards
Overall Novice Figure
NPC Open Bikini and Awards
IFBB Fitness and Awards
NPC Open Figure and Awards
NPC Open Fitness and Awards
IFBB Bikini and Awards
Overall NPC Fitness
Overall NPC Figure
Overall NPC Bikini
Directly after the Night Show there will be an After Party at the Host Hotel!!
Tags: 2010 IFBB/NPC, IFBB Pro, IFBB Pro Line-up for Ft. Lauderdale Cup

This entry was posted
on Friday, November 19th, 2010 at 11:38 am and is filed under FEMALE BODYBUILDING, NEWS.
You can follow any responses to this entry through the RSS 2.0 feed.
You can leave a response, or trackback from your own site.