>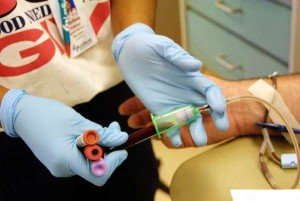 U.S. researchers examined the bodybuilders who use steroids. The aim was to find out how things are with the composition of the blood. At the same time, scientists expected to find in the blood any abnormalities associated with the typical bodybuilding diet. Actual experiment consisted in the fact that three days, scientists recorded the daily menu of athletes and made blood tests. On average, athletes take daily from 25 to 250 mg of steroids (in the form of pills or injections). What about diet, it was typical to that season: 49% of daily calories bodybuilders received from carbohydrates, 22% – from the protein (about 2.7 grams per kg) and 29% – from fat (cholesterol above the recommended norm to 2.8 times). In addition, the athletes took from 100% to 600% of the recommended daily doses of vitamins and minerals.
Strangely enough, but the composition of the blood of athletes remained within normal limits. And only some of the indicators (eg, the proportion of good cholesterol in the total cholesterol) deviated from the normal range … in a positive way.
See … All this, of course, does not mean that steroids can be taken without risk to health. If bodybuilders are genetically predisposed to heart disease, even a small increase of cholesterol can cause thrombophlebitis, heart attack, etc. On the other hand, the diet overloaded with carbohydrates and proteins, as well as vitamins and minerals, did not affect blood, the same as steroids. According to doctors, it should be quite the opposite.
What is the reason of being? Apparently, bodybuilding is one lifeline that has protected bodybuilders from the adverse effects of steroids and systematic overeating. Extreme loads transformed athletes' physiology into a special mode when their bodies are ready for any alien biochemistry. In any case, the experiments deny common myth that bodybuilders – are walking disables.
Tags: STEROIDS, Steroids and blood

This entry was posted
on Thursday, January 17th, 2013 at 11:00 pm and is filed under STEROIDS.
You can follow any responses to this entry through the RSS 2.0 feed.
You can leave a response, or trackback from your own site.