>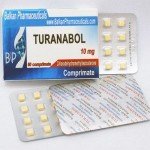 Manufacturer: Balkan Pharmaceuticals
Substance: 4-Chlorodehydromethyltestosterone
Pack: 60 tabs (10mg/tab)
Molecular Formula : C20-H27-Cl-O2
Chemical Name : 4-chloro-17ß-hydroxy-17a-methylandrosta-1,4-dien-3-one
Systematic Name : (8R,9S,10S,13S,14S,17S)-4-chloro-17-hydroxy-10,13,17-trimethyl-7,8,9,11,12,14,15,16-octahydro-6H-cyclopenta[a]phenanthren-3-one
Index Name : 4-chloro-17 alpha-methyl-17 beta-hydroxy-1,4- androstadiene-3-one
Drug Class: Anabolic Androgenic Steroid (oral)
Molecular Weight : 334.884
Metabolism : Hepatic
Elimination Half Life : 16 hours
Cutting/Bulking: Both
Acne: No
Water Retention: No
HIgh Blood Pressure: No
Liver Toxic: No
DHT Conversion: Possible
Decreases HPTA Function: Mild
Aromatization: Not likely
Turanabol by Balkan Pharmaceuticals represent an oral anabolic steroid which contains 10mg of the hormone Chlorodehydromethyltestosterone.
Chlorodehydromethyltestosterone is popular in bodybuilding because it provokes quality gains in both strength and mass. Another positive propriety of this hormone is the fact that it produces nice dry gains with themetabolites of chlorodehydromethyltestosterone leaving the body relatively quickly.
Turanabol was developed in 1960 and in bodybuilding is also known as T-bol. It is low androgenic steroid with high anabolic proprieties. Named steroid does not convert to estrogen, that's mean it does not provoke water retention. Turanabol does not aromatize in the body and have the ability to reduce SHBG to other steroids.
T-bol is effective in both cutting and bulking cycles. Very often it is used by athletes between cycles to help the bodybuilder preserve gains made from the previous cycle.
An effective dose for male athletes is 20-40mgs a day. Female can use it too in dose of 5 mgs/day.
Being C-17 oral, Turanabol can be kind toxic to liver.
You can BUY this product at discount prices from DaddyRoids.Net because they proved good themselves on market and have good reputation.
Written by: Golden Muscles
© May 2010 www.goldenmuscles.com All rights reserved. Reprint article with link only.