>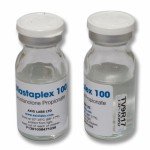 Manufacturer: Axiolabs
Substance: Drostanolone Propionate
Pack: 10 ml vial (100 mg/ml)
Average Dose: 300 – 600mg per week
Half Life: 2 – 3 days
Water Retention: No
Aromatization: No
DHT Conversion: No
Mastaplex 100 by Axiolabs is an injectable steroid which contains an active substance named Drostenolone Propionate, and is commercialized in 10 ml vial.
In medicine this steroid is used as a breast cancer drug.
Being moderate anabolic with strong androgenic proprieties, Drostenolone Propionate help to increase hard and density muscles. Because it is a derivative of dihydrotestosterone, dromastanolone does not aromatize at any dosage and thus it cannot be converted into estrogen. Also named Masteron is often used by athletes who are sensitive to estrogen side effect because it is a powerful estrogen blocker. This steroid is relatively fast-acting and fast-clearing because of the attachment of the propionate ester to the base molecule.
Bodybuilders like to take Drostenolone Propionate in cutting cycles. To achieve better results athletes prefer to stack this hormone with Testaplex P 100, Trenaplex, or oral steroid such as Winstrol, Halotestin. As a result of taking this combination bodybuilders will obtain hard and well defined muscles.
Recommended dose for male bodybuilders is 300-600 mg/week. Women usually take 100-300mg/week.
Because of its strong androgenic proprieties, athletes report such side effects as: oily skin and increase of libido level.
You can BUY this product at discount prices from IronDaddy.ws because they proved good themselves on market and have good reputation
Written by: Golden Muscles
© July 2010 www.goldenmuscles.com All rights reserved. Reprint article with link only