>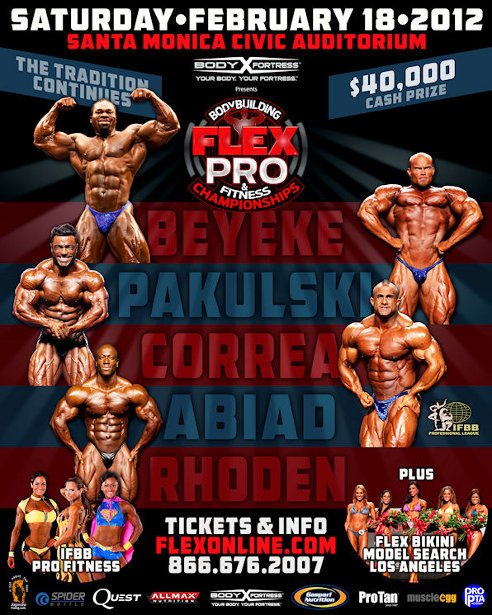 The greatest event for those in love in bodybuilding will start 2012. The first IFBB pro bodybuilding & fitness championship will be held in Santa Monica on February 18th. It promised to be one of the highlights of the 2012 IFBB Pro League season! Competitor lists have just come out and some of the favorites as Fouad Abiad, Ben Pakulski, Ed Correa, Adela Garcia will appear on stage for their fans. Below you can see the competitor lists for the Flex Pro –
1. Fouad Abiad
2. Grigori Atoyan
3. Lionel Beyeke
4. Lionel Brown
5. Eduardo Correa da Silva
6. Constantinos Demetriou
7. Mark Dugdale
8. Stan Effeding
9. DeShaun Grimez
10. Rusty Jeffers
11. Ben Pakulski
12. Shawn Rhoden
13. Vladimir Sizov
14. Mehmet Yildirim
IFBB Pro Fitness competition there… this is the current competitor list so far.
1. Jodi Boam
2. Myriam Capes
3. Bethany Cisternino
4. Allison Either
5. Adela Garcia
6. Oksana Grishina
7. Paula Gulman-Williams
8. Tanji Johnson
9. Michele Mayberry
10. Camala Rodriquez
11. Sheri Vucick
Tags: 2012 Flex Pro, 2012 Flex Pro Bodybuilding and Fitness

This entry was posted
on Monday, February 6th, 2012 at 12:14 am and is filed under NEWS.
You can follow any responses to this entry through the RSS 2.0 feed.
You can leave a response, or trackback from your own site.