>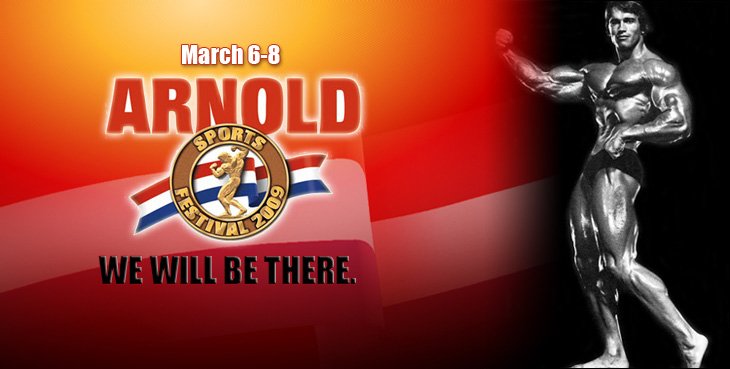 The 2009 Arnold Sports Festival, the world's largest multi-sport fitness weekend, took place on March 6-8. With 17,000 competing athletes, from Bodybuilding to Ping Pong, the Arnold Sports Festival is the largest sports event in the World, nearly 2X the size of the Olympics.
The participants at Arnold Sports Festival competed in the following compartments:
Arnold ACTIVE AGING Festival
Arnold AMATEUR IFBB BODYBUILDING, FITNESS and FIGURE
Arnold ARCHERY Competition & NASP State Tournament
Arnold ARMWRESTLING Challenge
Arnold USA BOXING Invitational Championships
Arnold CHEERLEADING and DANCE Nationals
Arnold FITNESS FASHION SHOW
Arnold FENCING Classic
Arnold GYMNASTICS Challenge
Arnold TABLE TENNIS Challenge
Arnold WRESTLING Challenge
Arnold Classic MEN'S BODYBUILDING
Ms. International WOMEN'S BODYBUILDING
This activities include amateur and pro male and female bodybuilding, figure, fitness, amateur bikini (new this year), powerlifting, boxing, grappling, mixed martial arts, gymnastics, table tennis, weightlifting, armwrestling, archery, cheerleading, dance, youth dancesport, deadlift and bench press contests, wrestling, an educational summit, an active aging festival, party with the pros, racewalking (also new this year), a 5K run, and 5K pump and run, a fitness fashion show and a three day expo of 700+ vendors.

This entry was posted
on Tuesday, May 19th, 2009 at 9:27 pm and is filed under NEWS.
You can follow any responses to this entry through the RSS 2.0 feed.
You can leave a response, or trackback from your own site.