>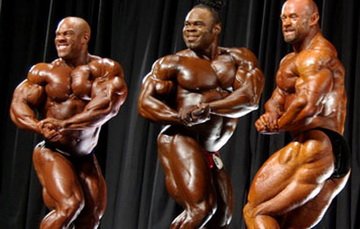 It was just about a full year ago that we were all talking about how deep the 2009 Mr. Olympia line-up was going to be. Dexter Jackson was coming in as the defending champion, Kai Greene was making his first appearance on the Las Vegas stage after dominating at the Arnold Classic, Phil Heath was returning for his second shot at the Sandow after taking third in his maiden O, Dennis Wolf was the 'sexy' pick and Jay Cutler was hardly being mentioned.
We all know what happened, with Cutler besting Branch Warren to reclaim what was once his. Jackson fell to third, with Greene and Heath following. Wolf did not even place and has been quiet of late. With such unexpected results then, who knows what is going to occur this time?
The men who have qualified so far are Cutler, Jackson, Warren, Greene, Heath, Wolf, Melvin Anthony, Erik Frankhouser, Toney Freeman, Marcus Haley, Victor Martinez, Evengy Mishin, Robert Piotrkowicz, Craig Richardson, Ronny Rockel, Roelly Winklaar and Hidetada Yamagishi.
People are very curious about Winklaar, who has been very impressive so far in his rookie professional campaign. He has not officially announced if he will in fact compete a the Olympia. Greene, who took his second consecutive Arnold in March (albeit a controversial decision as far as this writer is concerned), is looking to add his names to the list of bodybuilding greatness by capturing a Sandow.
Cutler is still the favorite going in until proven otherwise and he can assure himself of another victory even by coming in the same as he did last year. It will be hard to beat him if he does but because it is so wide open after that, anyone can jump into the top six and possibly do some damage. But if Cutler comes in a bit off – which is possible for anyone – then a guy like Heath (who deserved this year's Arnold) can jump up.
There is always a wildcard once we reach Olympia weekend. Looking for one this year? Keep your eye on Rockel, who looked to be in superb condition at the Arnold Classic. If he an add some size and not lose any of his symmetry, he may just be the one we are talking about.
source:musclesportmag.com
Tags: Arnold Classic, Craig Richardson, Defending Champion, Dennis Wolf, Dexter Jackson, Erik Frankhouser, First Appearance, Hidetada Yamagishi, JAY CUTLER, Kai Greene, Melvin Anthony, Mishin, MR. Olympia, Olympia Weekend, Phil Heath, Professional Campaign, Ronny Rockel, Sandow, Toney Freeman, Victor Martinez

This entry was posted
on Tuesday, July 6th, 2010 at 6:32 pm and is filed under NEWS.
You can follow any responses to this entry through the RSS 2.0 feed.
You can leave a response, or trackback from your own site.