Posted in
HEALTH PUBLICATIONS
on May 25th, 2010 by admin –
1 Comment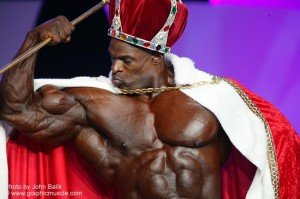 Amidst brambly weeds in the sweltering Texas heat is a kennel, and in the lead pen–reinforced with steel bars so the occupant can't tear through the chain-link door and kill one of its coworkers again–is a pit bull named Max.
Max is the "muscle" that delivers the crippling bites when he and his expertly trained kennel mates hunt wild boars in the dark. On all but the hottest nights, the dogs wear Kevlar, and even then the tusks of a 400-pound razorback can end a dog's days.
Max has bucked the odds and thrived as the leader of the pack for more than seven years. Despite all challengers, so has the man who toils just a few feet away, on the other side of a crumbling gym wall: bodybuilding's undisputed top dog, Ronnie Coleman.
GETTING SMALL
It's 98 degrees and exactly four weeks before the 2005 Mr. Olympia when photographer Kevin "Hardcore" Horton and I cruise down the craggy lane, past auto repair garages and junked autos, to MetroFlex Gym. "Home again," Horton exhales. We love this place! We're in Arlington, at the country's most hardcore gym, where the world's top bodybuilder trains alone. This is what I journeyed halfway across the country and Englishman Horton journeyed halfway across the world to capture. This is what bodybuilding is all about. read more »