Posted in
HEALTH PUBLICATIONS
,
NUTRITION
on June 17th, 2013 by admin –
Be the first to comment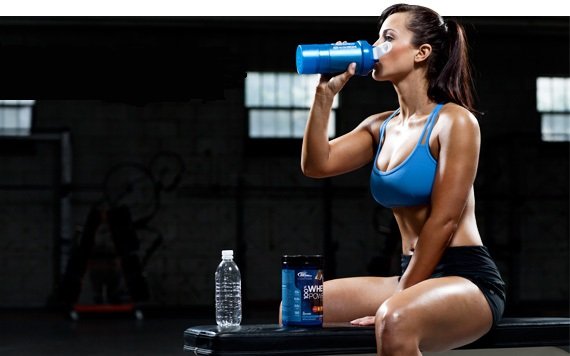 Protein shakes and supplements have a lot of benefits for bodybuilders; they are quick and easy to use and supply the type of protein necessary for a bodybuilder's diet. This is why they are so popular and commonly used; particularly amongst those relatively new to the weight-lifting game. While shakes and supplements are for the most part safe and healthy when consumed properly, they do carry some added risks. Because protein shakes are a food supplement they are not regulated by the U.S. Food and Drug Administration in the same way as pharmaceutical products. This means that manufacturers might not test supplements for toxins or might fail to disclose harmful ingredients in their products. Independent testing labs have previously found heavy metal contamination, including cadmium, lead and arsenic, in many protein shakes. So with this in mind, is it possible to get ripped without the shakes?
What Your Body Needs to Build Muscle
Protein shakes do not provide your body with anything that you cannot get from regular foods; they just give you a shortcut to getting it. By understanding which foods your body needs, and when and how often it needs them, you can tailor-make you own perfect bodybuilding diet. Sure this version requires more time and effort, but hey, you're a weight-trainer, all you know is time and effort right? To build muscle and lose fat you need a variety of proteins, vegetables, fruits, carbohydrates, and healthy fats in your diet. There is of course still a key focus on protein. read more »