Posted in
BODYBUILDERS PROFILES
,
PHOTOGALLERY
on February 15th, 2011 by admin –
1 Comment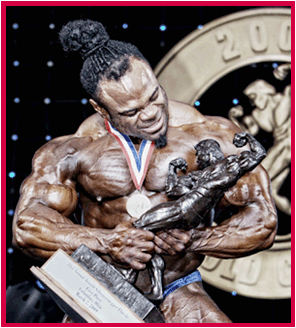 Full Name: Kai Greene
Birthday: July 12th
Birth Place: Brooklyn, New York
In-Season WEIGHT: 275-280 lbs
Off-Season WEIGHT: 310-315 lbs
I was born July 12th in Brooklyn, NY. At the age of six, I became a ward of the state of New York due to a problematic home environment.  For the next ten years, I would be in transitional placement moving from several foster homes to institutional placements.  It was within this environment I found weight training as my refuge.
Deep inside of my soul, there resided many talents that few people were aware of most importantly my burning desire to be a visual artist.  My two worlds would eventually meet and interconnect as my own body became my subject of study.  I became my own living model.  I utilized my own physique to gain a greater understanding of space and movement, creating works of art that became increasingly detailed and complex over time.
read more »